Pictures of my shed

A brief bit of information about the shed:
Construction was begun in mid-2004, and things happened, and it was finished in early 2005. Only my dad (a carpenter & joiner with over 40 years' experience), myself and a friend were involved in the construction, though it has to be said, he's responsbile for most of it - well, except for the PCs =P.
Although it looks like it cost a fortune, the total came to "only" £1,000 as we got some of the materials for free - namely, the windows, the door, the concrete slabs for the base, the real wood flooring (rescued from a skip - to buy enough for the shed would've cost several hundred pounds!), and the armoured electrical cable. Plus, we saved on paint by using old supplies stored in the loft in house (I think), and the mini-fridge, chest of drawers, TV and the table PC 5's monitor + peripherals sits on were all free. Finally, 3 of the monitors and PCs 3 and 4 were free, as were some of the keyboards - they were unwanted stock from a local company.
That's about all the history I can think of, so scroll down for some photos...
---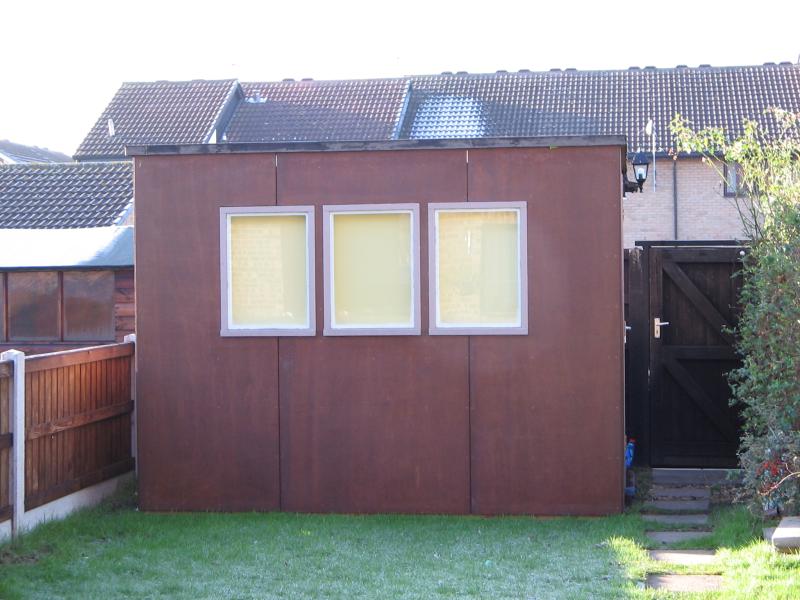 A view from the outside in the morning, without a bloody great logo stuck over it =P
---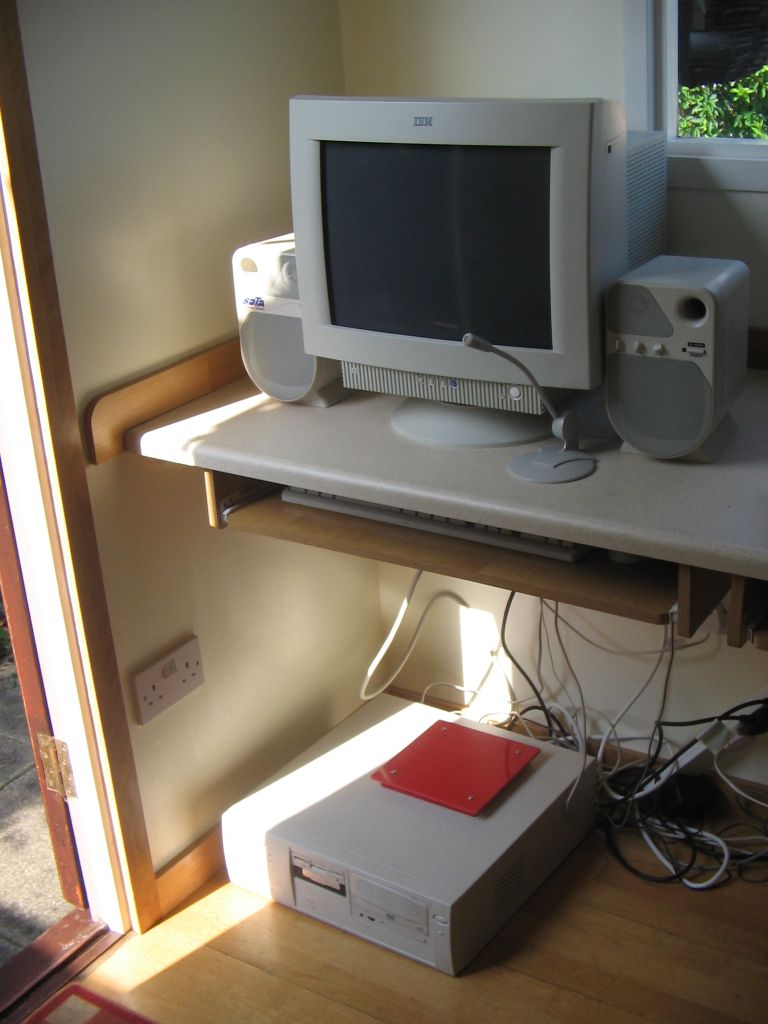 Shed PC 1 - an AMD Duron @ 1300MHz, 256MB PC133 SDRAM, 20GB HDD (with additional 9.1GB 10K RPM SCSI HDD), GeForce 3 Ti 200, Ensoniq ES1373 (I think), all served on an ECS K7S5A Rev 1.x motherboard. The Duron CPU broke recently and I haven't bothered replacing it yet because sellers on eBay have this strange notion that a chip of this speed is worth more than £15 - so I'm not about to replace it just yet.
---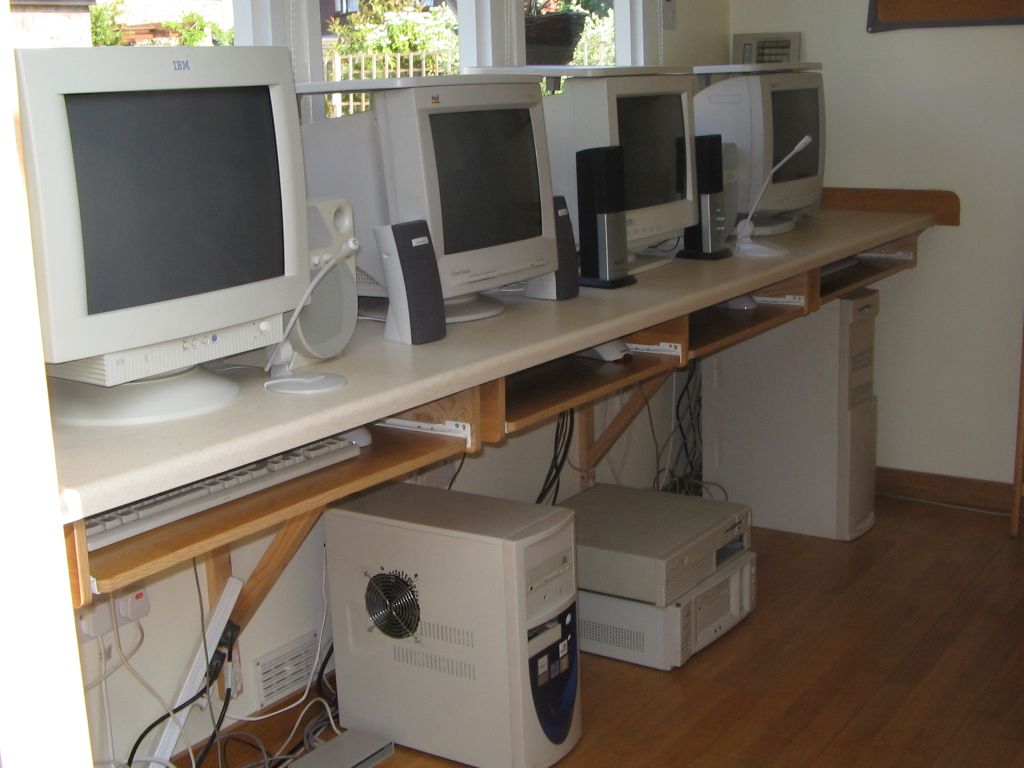 From foreground to background:
Unbranded 8-port 10/100 Mbps Ethernet switch - 5 used by shed PCs, 1 other by the network link from the shed to my bedroom.
Shed PC 2 - an AMD Sempron 2300+, 256MB PC2700 DDR SDRAM and 40GB HDD, all hooked into an ASUS A7S8X-NX motherboard, with onboard graphics & sound in use. Note the self-cut 120mm fan space on the side of the case - my main PC used to be in here, and there used to be a Nidec Beta V fan in place, but I recently moved it into a bigger all-aluminium case (which cost a mere £30 from Maplin) so I took off the fan as it wasn't really needed anymore.
Shed PC 3 (the desktop case with the holes in the side) - a Pentium 4 @ 1.7GHz, 512MB PC2700 DDR SDRAM (actually runs at PC2100 speed), 45GB HDD, GeForce 2 MX-400, all running on an ASUS P4B533-VM. This is unique in being the only retail PC in the shed - it's a Viglen Contender 500S according to the badge. The PC on top of it is an old Compaq Deskpro 486 which I got for free recently, but it's not in use.
Shed PC 4 (yes, a full ATX case :O) - dual Pentium 3 chips @ 450MHz, 384MB PC100 SDRAM, 3x 9.1 GB SCSI HDDs (one of them 10K RPM, the other two 7200 RPM), 2x SCSI CD drives (one Yamaha CD burner and one Plextor CD reader), on a delicious platter of a Supermicro P6DBS Extended ATX motherboard. Despite its impressive specs, I've had some very annoying problems with this machine, and I recently retired it (possibly indefinitely) to the end of the shed - currently it's only useful as an armrest :(
---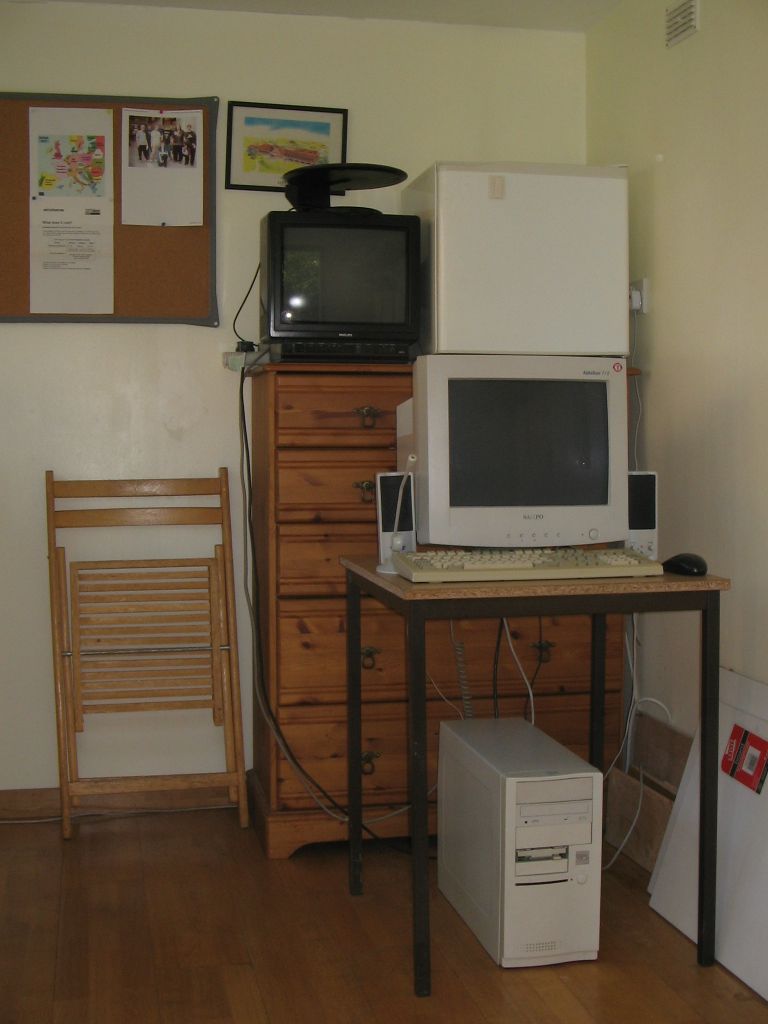 Shed PC 5 (mostly the same as PC 2) - an AMD Sempron 2300+, 512MB PC2700 DDR SDRAM and 20GB HDD (with additional 9.1GB 7200 RPM SCSI HDD), all hooked into an ASUS A7S8X-NX motherboard, with onboard graphics & sound in use. This and PC 2 could really do with better graphics cards, as the SiS onboard graphics aren't especially good (well, good enough for Counter-Strike v1.6 at a reasonable speed & low resolution, but that's about the limit). This PC has one other unique feature though - due to the case lid not fitting properly it makes a nasty rattling sound, so a heavy object has to be on top of the case at all times while it's switched on, for example a big pack of beer :D
Also visible is the chest of drawers (full of computer junk and other bits & bobs),mini-fridge, TV (with portable aerial), a framed print of a picture from the London Golf Club (dad got this for free from somewhere), and some random things stuck on the noticeboard (another freebie). Aaaand, that's all for now =P
---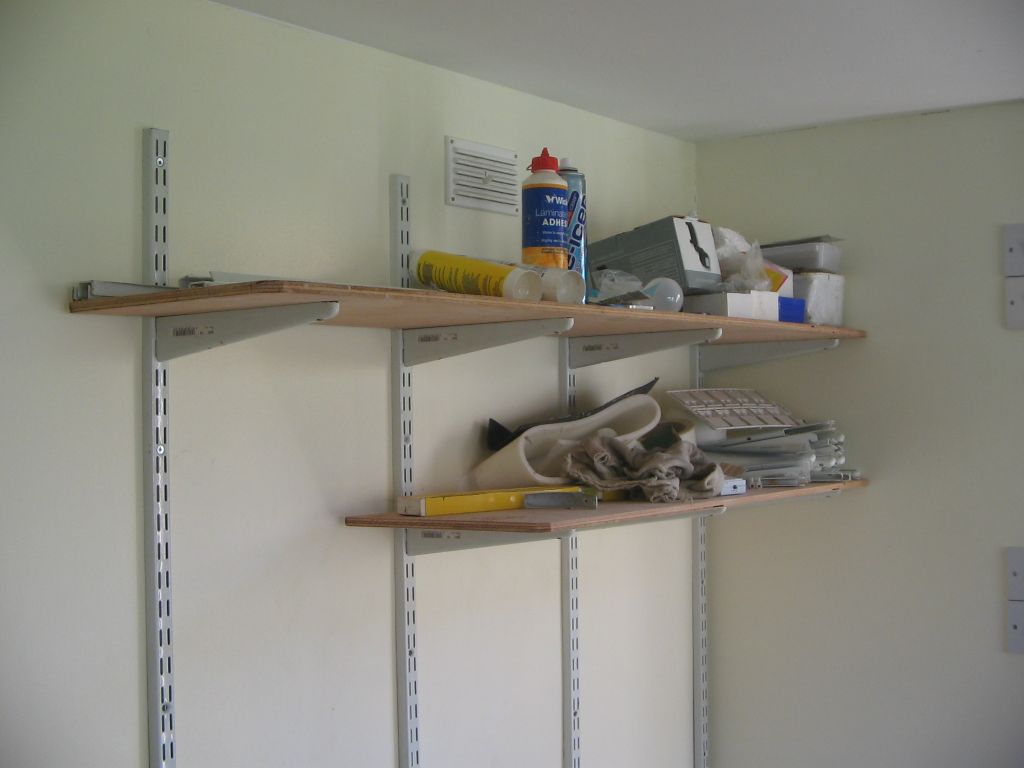 Well, not quite - this is the most recent addition to the shed... some shelves. :D
---
Bonus Bits
Some newer photos of the shed PCs can be seen here. Plus, for a look at the aftermath of one of the early ShedLAN parties (number 4, I believe, out of about 11 over the last 3 years), click here.
---
Copyright Information
Unless otherwise stated, all of this information was written by Rob Watts (aka RobbyW / STC-Fan / zedeckseightyone) 2004-2007 or adapted from sources who have helpfully contributed information to this document. You may NOT use any information from this document unless you ask nicely beforehand, or something like that.