The Beta ROM Header Data
While I was looking in some of my Mega Drive ROMs with Hex Workshop, I had a look at the Comix Zone Beta ROM which I previously thought was the same as the final version. Although the games themselves are relatively similar (apart from a lot of weird things in the Beta which are covered on another page), something in the header of the Beta ROM looked a tad unusual (found in offsets 000000FC to 0000016C.):
SEGA GENESIS ęSEGA 1995.APRJOE PENCIL IN THE COMIX ZONE JEAN CLAUDE CRAYON DANS LE ZONE COMIQUE
See below for a screenshot of the Beta ROM Header: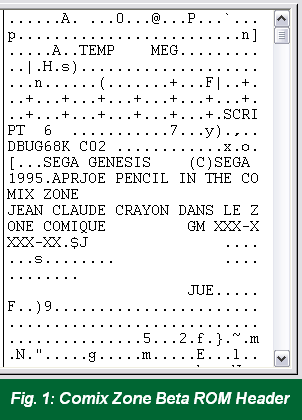 It is possible that these were early names for Sketch Turner, but if he was to have been called Joe Pencil or Jean Claude (Van?) Crayon, then I somehow doubt the game would have sold as well - would probably have got more laughs, though!
So perhaps it's better that Sega kept the comedy names to themselves! One more thing: When the beta ROM is loaded in Gens 2.11, the ROM is always titled as "JEAN CLAUDE CRAYON DANS LE COMIX ZONE" no matter what country you select, so "JOE PENCIL IN THE COMIX ZONE" is never seen when the ROM is loaded.
The Final ROM Header Data - The Humour Lives On
And we should be glad :) - In the Final Comix Zone ROM, looking at offsets 0000001C to 00000038, you can see a short message:
DON'T LOOK AT THIS!
...I think the meaning of this is to tell people not to look at this. *runs* - Or maybe it's just a "friendly" message to some people, perhaps there were some dolts in the STI development team who'd messed things up in the past, and this is just a warning to them. Or maybe it's a... oh I don't know for sure. I'd say it's a fun little message put in for no real reason at all.
Conclusion of the ROM Header Jokes / Names
It seems that Sketch Turner was once known as Joe Pencil in the early stages of development, right up to the final release a month later, when that name was scrapped and someone thought of Sketch Turner. And I think we can all be thankful that was his final name, else it could have been a bit of a marketing disaster for Sega...